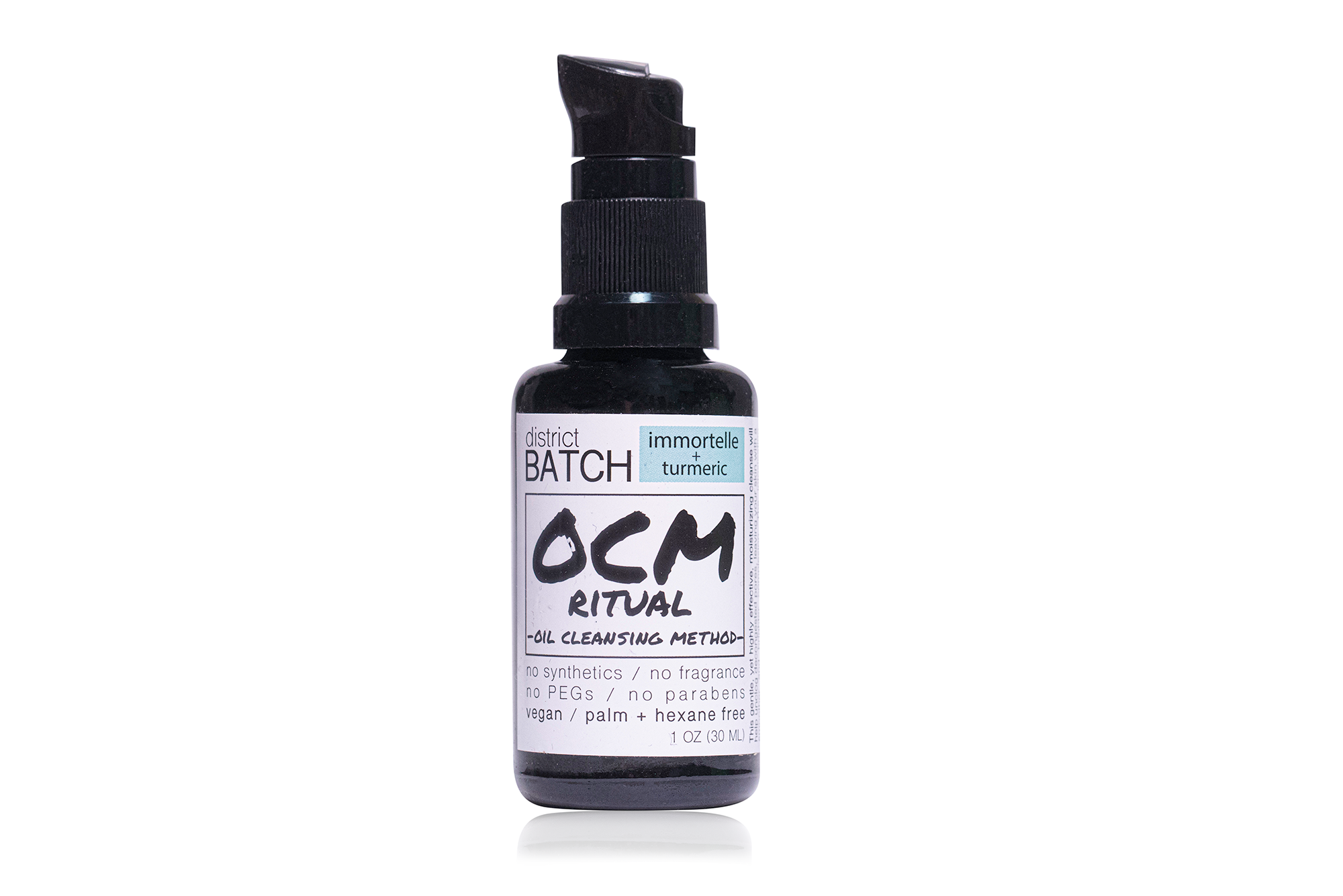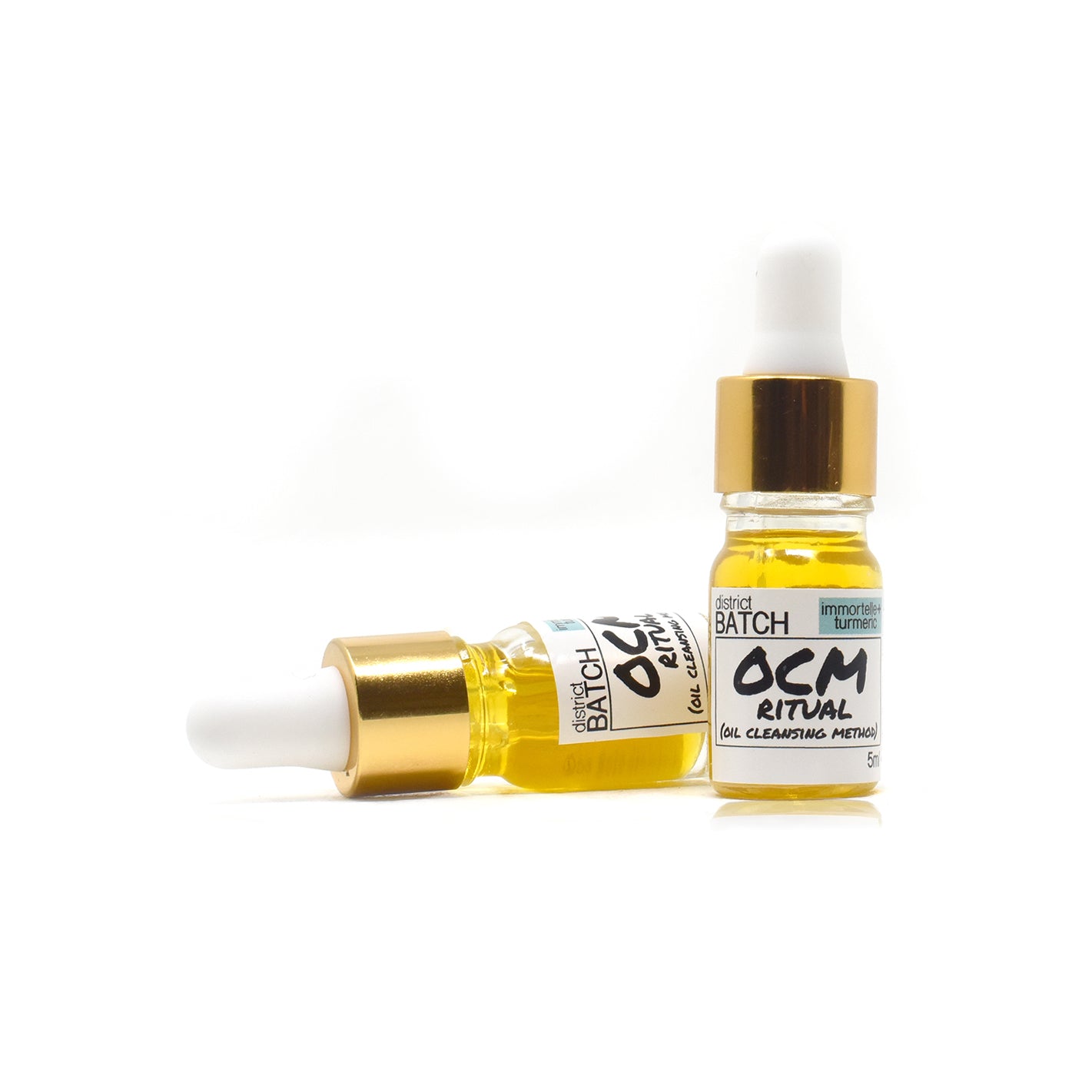 For an ageless appearance, welcome our OCM Ritual into your daily routine and reveal your best skin. Never any harsh chemicals or harmful additives, just pure, raw oils that cleanse, calm, brighten and moisturize delicate facial skin. Works for all skin types, including oily, mature, sensitive or dry.
We refer to our OCM Ritual as liquid gold. This "dry" oil dissolves dirt and makeup and draws out impurities without disrupting your skin's pH balance. Used daily, our OCM Ritual helps to restore radiance and regulate your natural oils. This gentle yet highly effective moisturizing cleanse will work to unclog congested pores, leaving your skin with a smoother and brighter complexion.
If you prefer to use a water-based cleanser, like our Charcoal + Tea Tree Face Bar, the OCM Ritual can be used as a moisturizer after you wash. We recommend cleansing first, spraying on our Immortelle Tonic to dampen skin and then massaging in a few drops of the OCM Ritual. It provides a non-greasy protective shield of moisture.
District BATCH conscientiously selects premium organic and unrefined oils rich in antioxidants, vitamins and linoleic acids, which leave your skin radiant and soft. Our helichrysum immortelle reawakens the skin and encourages revitalization while the oil's intoxicating tea-like aroma will delight your senses.
What people are saying:"I started using O.C.M. a month ago as a last-ditch effort to curb my hormonal acne that took over my chin every month. After less than a week of using this product, I was so pleasantly surprised at how great my skin looked and felt. But the kicker is that this month I have had absolutely NO hormonal acne. None! I've never written a product review before. But had to support this product because it is THAT good. Thank you District Batch.".
SCENT PROFILE
Intoxicating tea-like aroma. Some say smells like hay and honey. The raw oils in this formula make for a lovely earthiness that can only be described as natural.
HOW IT WORKS
-Gently cleanses facial skin, removing makeup, dirt and grime.
-Restores suppleness, moisturizes and helps to minimize the appearance of fine lines, wrinkles and scars.
APPLICATION
Massage a few drops into dry facial skin for 1-2 minutes. Gently wipe clean with a warm to hot washcloth. 
For a Korean-style double cleanse, follow the OCM ritual with our Charcoal + Tea Tree Face Bar. Our Immortelle Tonic can be used as a final step to restore the pH balance of your skin. For congestion-prone skin, combine with one of our powder-to-clay masks once a week to detox and lightly exfoliate. 
INGREDIENTS
high linoleic safflower oil*, rosehip seed oil*, argan oil*, hemp oil*, meadowfoam seed oil, red raspberry oil, raw blackberry oil, raw sacha inchi oil*, turmeric oil*, wildcrafted helichrysum immortelle oil, sea buckthorn oil*, rosemary antioxidant*           *organic
OUR PROMISE
Palm free, vegan, cruelty free, non-comedogenic and 85% organic. NO sulfates, synthetics, parabens, fragrance, EDTA, phenoxyethanol, hexane, formaldehyde or peg's.
SIZE
1 OZ (30 ml)
.2 OZ (5 ml)
INGREDIENT HIGHLIGHTS
Unrefined safflower oil (organic, expeller pressed): Most safflower oil used in the cosmetic industry is highly refined and typically high in oleic acid, which can be harsh and irritating. Our beautiful oil is high in linoleic acid which assists in the healing of blemished skin.
Wildcrafted Helichrysum Immortelle (steam distilled): The scent profile of this particular Helichrysum immortelle oil is what hooked us. It is sweet, herbaceous and rosy with nuances of spice, hay, honey and wood. As we began to explore this incredible herb we discovered it is one of the most coveted essential oils in the skincare industry, and for good reason.
Helichrysum immortelle is the only essential oil found to contain diketones, which are thought to be potent aids in reviving dull and damaged skin. It may be especially effective when combined with rose hip seed oil, as we do in the OCM Ritual. We purchase this from a small business in the US that conducts purity testing as well as olfactory testing, making this the most sensual iteration of Helichrysum immortelle oil we have ever sampled. It is the perfect oil for delicate facial skin.
Organic sea buckthorn oil (CO2 extracted): Our thoughtfully selected sea buckthorn oil is a beautiful deep red color, indicating a high amount of carotenoids and other potent antioxidants. The carbon dioxide distillation process allows all the fatty acids, minerals and vitamins from the berries to flow, unaltered by heat or pressure, into the concentrated essential oil. Sea buckthorn CO2 oil provides an unsurpassed natural source of vitamins A, E, B1, B2, K and P, carotenes, flavonoids, tocopherols and essential fatty acids.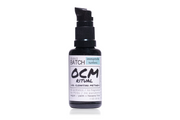 OCM RITUAL