IMMORTELLE FACE TONIC (experience size)
This elixir of hydrosols ("flower waters") and plants is formulated to rejuvenate and refresh facial skin after a cleanse or shave. We infuse alcohol-free witch hazel with finely selected herbs and tree barks that boost its already impressive ability to cool and soothe perennially irritated skin.
Helichrysum immortelle hydrosol promotes suppleness and reduces the appearance of fine lines and wrinkles. Softening and calming sandalwood is known to refresh both your appearance and outlook. Allow our finely crafted, pH-balanced formula to reset your spirits and skin.
PRO TIP: We love to keep ours in the refrigerator in the summer for a sublimely cooling skin refresher!
SCENT PROFILE
The Immortelle Face Tonic will intoxicate your senses with a woodsy melody of black tea, toasted honey and hay.
APPLICATION
Wash your face with our Charcoal + Tea Tree Face Bar (or another cleanser), dry, and spray on the Tonic. This formula can also be used as a soothing aftershave tonic or any time of day your skin needs an instant pick me up. Suitable for all skin types.
INGREDIENTS
santalum austrocaledonicum (sandalwood) flower water, helichrysum italicum (immortelle) flower water*, rosa damascena flower water, symphytum officinale (comfrey leaf)*, lavandula angustifolia*, matricaria recutita (chamomile), alcohol-free hammamelis virginiana (Witch Hazel) water, radish root ferment filtrate *organic
OUR PROMISE
NO synthetics, parabens, fragrance, aluminum, triclosan, propylene glycol, TEA/DEA, sulfates, EDTA or formaldehyde.
SIZE
.3 oz (10 ml)
INGREDIENT HIGHLIGHTS
Organic Helichrysum immortelle hydrosol: We sampled numerous Helichrysum immortelle hydrosols before we landed on this one. The quality and smell is exceptional. The rich aroma of this calming flower water is the backbone of our outstanding formula because of its ability to relieve and moisturize. We are sure it will delight your senses and become part of your self-care routine.
House-infused, alcohol-free witch hazel: We select exceptionally high-quality herbs and flowers to infuse into our alcohol-free witch hazel. After the herbs have soaked for up to eight weeks, we triple filter the witch hazel to bring you the finest small-batch infusions around.
Our unique preservative system: We use aspen bark powder in combination with leucidal liquid, also known as radish root ferment, as our all-natural preservative system. We then bottle our formulas in beautiful German ultraviolet-blocking glass bottles that keep out the harmful rays that would otherwise encourage mold and bacterial growth. Because we formulate in such small batches, you are always getting fresh products that have no need for harmful chemicals like phenoxyethanol in combination with tetrasodium EDTA, parabens, and other chemicals that are harmful to the environment and your body. At District BATCH we ensure the purity and integrity of each product in the most natural way possible.
Hydrosol: Also known as "flower waters", hydrosols are produced by distilling fresh leaves, fruits, flowers, and other plant materials. Hydrosols have similar properties to essential oils but are less concentrated. Their aromas are often soft and subtle when compared to their essential oil counterpart. They have a scent that is similar to their essential oil, but with a greener note. Flower waters are unique because they have benefits of both the essential oils and the plants themselves.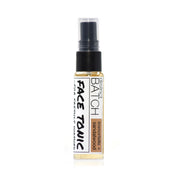 IMMORTELLE FACE TONIC (experience size)